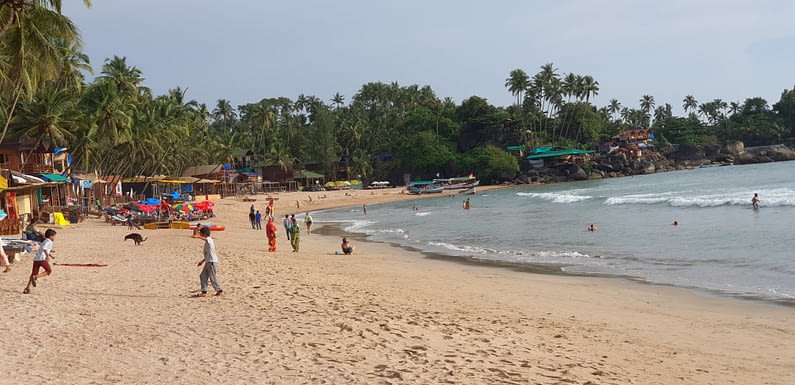 Places To Visit In Goa – Goa is known for chilling beaches, forts, historic sites, adventure sites, sunset view, night out etc. So you can't miss this place if you love travelling. As it offers stunning locations to have real fun. It is an evergreen place that never loses its eye-catching lustre.
As it has an abundance of tourist place that's why holidaymakers really get confused in choosing awesome tourist places of Goa. So to rescue from this ambiguous situation, we offer you a list of must-see places to visit in Goa. So if you are planning a trip to Goa then you must add below-mentioned places to your list of places to visit in Goa. Let go through the vivid description of the tourist places Of Goa.
Must-See Places to visit in Goa are following
Fort Aguada is located in the North Goa. It is an ancient place. It is perched over a top of the high hill. It is a Portuguese fort. The main motive behind the construction of the Portuguese fort to protect themselves from the Marathas and the Dutch during attacks.
In 1864, the thirteen-meter high lighthouse was built within this fort. Although the fort is declining day by day still some buildings are in good status. People visit this place because it offers delightful views.
It is a very popular place in Goa. If you looking for a place to spend some me-time. Then it is a perfect place to visit in Goa. It is India's greatest place. It lies between Goa-Karnataka boundaries.
The most suitable time to enjoy the fury of Dudhsagar falls is Monsoon Season. Because at this time water density get increased.  Even during the train journey from the Margao, you can enjoy the serene view of waterfalls.
It is one of the famous beaches to visit in Goa. It is located in the North Goa. It is a highly crowded place because most of the traveller love to spend their time on the shores of Baga beach. There are various things you can do at Baga beach. Like, enjoy beach shakes, water sports, dining at open restaurants etc.
If you are looking for adventure activities then you can enjoy paragliding, boating, speed boats, banana riding and much more. There are two famous night clubs as well that is Club Tito's and café Mambo.
If you are a shopaholic then Anjuna Wednesday Market is a perfect place to visit. You get here everything you wish for. It is started by the community Hippies in the year 1960s.
The open hours of this particular market are 9 am to 6 pm. The famous things that travellers love to buy are homemade jewellery, Tibetan and Kashmiri products. Here you find some jazz and folk music players as well.
       Another famous tourist place is Tere Khel Fort. It is one of the best places to visit In Goa. It is built by the Marathi ruler Maharaja Khem Sawant Bhonsle. IF you look around the surrounding from the top of the fort you will have ultimate view of river Terekhol. It is the historic site of Portuguese. Many tourist love to explore this strange land.
Hence, These are some offbeat places to visit in Goa. Do add above-mentioned places to your list and collect unforgettable memories.